// Expertise
Our experience, your safety !
After 20 years of working to develop awareness of fog protection technology on the nationally and lacking technological innovations capable of meeting the new demands of customers, we have decided to build a team for a new adventure: to create more efficient Fog Generators, more connected, that will adapt to the needs of all.
From all over Europe, we have gained the experience to understand your needs and the technical and technological skills to meet them. This anti-intrusion fog technology is still too unknown, and we are aware of the road ahead for all of us to benefit from this ultimate protection.
At the beginning of this adventure, we were a team of experts with very different but complementary characters and skills. We have become close to an industrialist from southern Europe with experience in the aeronautical and military markets, and therefore accustomed to the development of products with high quality standards and requiring high safety and reliability.
Our experience in the fog security market has allowed us to see gaps in the current market. In addition, we have developed Fog Generators that better meet these needs. More performance, better fog density and connectivity, more in line with the mobility necessary for our current way of life.
// Mission
For you : sustainable security !
Our world and our daily lives are accelerating, becoming at the same time increasingly demanding and creating social divides in modern society. 
The rapid technological changes of the last 10 years have created new needs. Economic or health crises reinforce feelings of inequality, which are sources of frustration and insecurity of all kinds. 
This feeling of inequality and injustice contributes to an increase in acts of violence against people but especially against property. Today, no one is safe from being the victim of an assault in their home, just like a break-in with theft and damage to their home or workplace. 
The numbers speak for themselves : 
Burglaries on the rise among professionals
Among professionals, since 2012, the annual number of burglaries has been increasing.
Burglaries still so numerous among individuals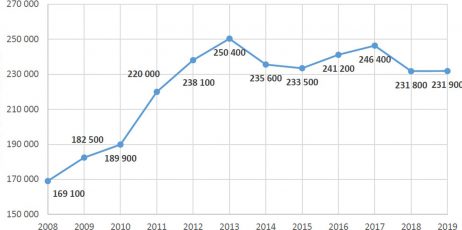 Among individuals, although since 2013, the annual number of burglaries has remained relatively stable, but still very high.
With this in mind, we have worked to develop a brand that will allow you, individuals and professionals, to take matters into your own hands !
How about a solution that protects you from all of this? A solution that makes your life easier, letting you enjoy your family without worrying about the risk of trespassing while you sleep.
How about a solution that protects your work tools? A solution that allows you to arrive in the morning by opening your establishment or store without the fear of discovering a burglary that may have taken place at night or on weekends?
How about a solution that allows you not to be woken up in the middle of the night by your alarm indicating a nightly intrusion in the store?
For all these points, DensityTM is the solution!
Discover in "our solutions" the Fog Generator adapted to your needs and come and share with our vision of a better world without the stress of theft or aggression!
// Vision
Personalised security, ever more connected
Our way of working will evolve considerably over the next few years, from a sedentary mode to a nomadic mode, to allow us to dematerialize our professional activities as well as our daily life.
The need to access our assets from any of the places we find ourselves in without being there will become a real norm and for this it is essential to evolve the security market by thinking "connected" and thinking "remote action".
Our mobile phones become an integral part of our daily view, of ourselves. So we need to know how to protect our assets when we are not present and be connected to follow them remotely.
For an improved daily life, it becomes necessary to let our technology systems and products manage our work tools and assets without the need to act physically. Artificial intelligence and the Learning machine will help us save time by relieving us of the weight of simple but repetitive tasks. Safety and equipment must be ready for these changes in society.
Our teams of computer and electronic engineers are already developing many new projects on our Fog Generators to make them even easier to install, easier to maintain, add new modes of communication to allow us to network our Density fog systems in your homes thanks to your home automation. But also in your stores or professional premises to ensure ease of installation, management and maintenance to help you optimize costs.
The DensityTM team's mission is to bring the revolution to intrusion protection by easily deploying generators in all environments to stop any intruder actions for a better world!
Come and participate in the DensityTM Adventure!